D. D. Warrior Lady
2-20-05
<![if !vml]>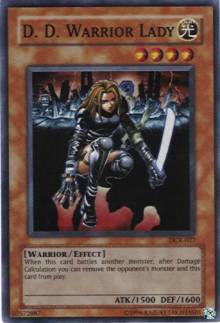 <![endif]>
<![if !supportEmptyParas]> <![endif]>
Name: D. D. Warrior Lady
Set: Dark Crisis
Number: DCR-027
Password: 07572887
Type: Warrior/Effect
Attribute: LIGHT
Level: 4
ATK/DEF: 1500/1600
Rarity: Super Rare
Description: When this card battles another monster, after Damage Calculation you can remove the opponent's monster and this card from play.
<![if !supportEmptyParas]> <![endif]>
My Rating: 5/5 Big monster on the opponent's field? Remove it. Want to get rid of Fiber Jar after the effect? Remove it. They set an Exodia piece? Remove it…..
<![if !supportEmptyParas]> <![endif]>
Pros:
Solid 1500/1600 for a 4-star effect monster
Remove any monster from play after attacking
Light monster
Warrior support
<![if !supportEmptyParas]> <![endif]>
<![if !supportEmptyParas]> <![endif]>
Cons:
You still take damage from battling
<![if !supportEmptyParas]> <![endif]>